TAIKO DRUM INDUSTRIES IS A
MANUFACTURER OF HIGH-DENSITY
POLYETHYLENE (HDPE)
DRUMS USING STATE-OF-THE-ART TECHNOLOGIES
Whether for hazardous or non-hazardous products, our clients come from a wide range of industries, e.g. agricultural, food, chemical, pharmaceutical, oils, etc.
Established since 1981, Taiko Drum Industries Sdn Bhd has developed a team of factory staff and workers with experiences in the development of top class UN approved drums at our plant in Tangga Batu, Malacca. The Group has expanded with manufacturing plants in Jakarta and Surabaya, Indonesia and in 2013 has expanded into Thailand with the addition
of its latest plant located in Rayong.
With our extensive experience in technical development and manufacturing processes, we are a leading HDPE drum specialist in South East Asia, producing highest standard of quality. Consistency and reliability and comply with international safety requirement. Our drums are an excellent form of packaging for environmentally-friendly and safety-minded
customers.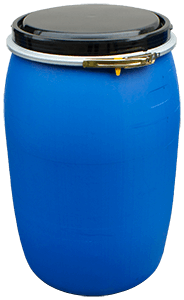 The user friendly Taiko Open Top drum comes in many sizes with
a snap lock metal gripper and stopper to act as a security seal for
better locking performance.
UN approved for packaging higher viscosity chemicals, solid and
emulsion products. Excellent for storage of foodstuff in paste
form in a cold room at low temperatures. The removable cover is ideal for reworking and finishing work.
1. Optimal draining and easy cleaning for multiple trips
Complete draining of the contents and easy cleaning are ensured
due to the smooth inner wall surface of the drum and lid.
2. Environmentally friendly
Complete removal of the content means less problems with
disposal at the end of the drum's useful life.
3. Inert, corrosion free
Minimal risk of product contamination. Proven in service
throughout the world, even under extreme climatic conditions and
also under harsh environments.
4. More efficient handling
Savings on filling and sealing costs.
5. Long service life
Drums can be reconditioned for reuse and have a relatively high
resale value. No repainting required.
6. Provision for venting
A venting valve enables the filling of drums with warm of hot fill
products up to 80°C without causing vacuum formation
(negative effect on stacking).
7. Easy stirring
The full opening makes it easy to use stirring equipment. This is
important for products with a tendency to settle or which have to
be provided with additives before processing such as paints,
wetting agents, dispersion agents, etc.
8. Product marking
The smooth drum lid/body offers a large solid surface for product
identification by labelling, stenciling or silkscreen printing.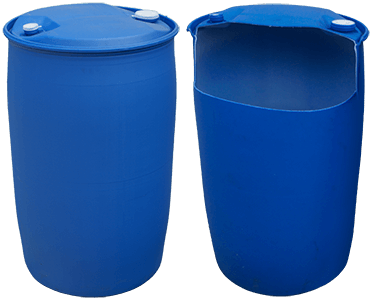 TIGHTHEAD L-RING DRUM (SINGLE/DOUBLE LAYER)
The tighthead L-Ring HDPE drum is renowned internationally as
the most successful, large size blow moulded packaging product
using the single operation technology.
UN approved for the storage and transportation of hazardous,
aggressive and non-hazardous chemicals worldwide by shippers
and transporters.
1. Optimal draining
The optimally drainable L-Ring drum reduces liquid residue to
less than 100ml when emptied at an angle up to 20°resulting in
less wastage.
2. Easy cleaning for multi-trip use
The smooth, seamless walls and optimal draining make for quick
and thorough cleaning at lower cost.
3. Environmentally friendly
Minimal residue when drums are empty means easier recycling
and less problems with disposal at the end of the drum's useful
life.
4. Lower transportation cost
Lighter tare weight against metal drums means savings on
transportation cost.
5. Long service life
The drums can be utilized for up to 10 trips, depending on the
products packed and transport conditions. It is important,
however to refill the drums with the same product or substance
of the same product group. Before every shipment, closures and
seals have to be checked and replaced if necessary.
6. Inert, corrosion free
Minimal risk of product contamination even under extreme
climatic conditions and when stored outside.
7. Suitable for hot fill products
The drums may be used for hot fill products of up to 80°C.
Special venting caps are recommended to avoid a vacuuming
effect.
8. Suitable for gaseous substances
Special degasifying closures are available for the tighthead LRing
drums and are liquid-tight to avoid the build-up of
overpressure.
9. Space saving qualities
Dimensional compatibility for loading into international freight
containers.
10. Product marking
Identification by means of silkscreen printing, stenciling and
labelling is possible.
11. Visually attractive
Less susceptible to impact damage than steel drums. The drums
do not require repainting.
OUTSTANDING STABILITY & STACKING PERFORMANCE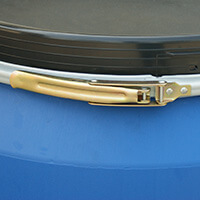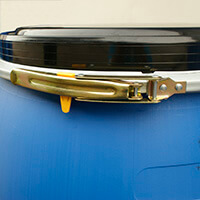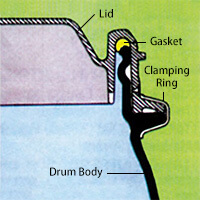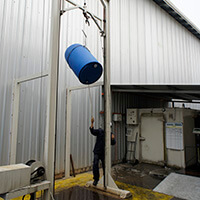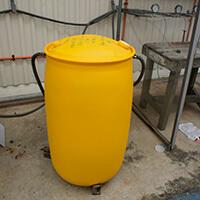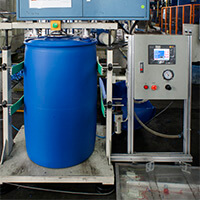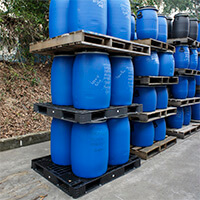 Taiko Drum Industries Sdn. Bhd. (Factory)
[198101012597 (78727-A)]
Lot 19, Fasa II, Tangga Batu Industrial Estate,
76400 Melaka,
Malaysia.
+60 6-351 3088 / 351 3089 / 351 0823
+60 6-351 3091
tdi.mkt@taiko.com.my
Ms. Annie Ee

Taiko Drum Industries Pte. Ltd.
73B Neil Road,
088901 Singapore..
+65-6327 2480
+65-6327 2482
drums@taikogroup.net